We are UV LED manufacturer from China.
5 years warranty
All of our product are meet with Reach, CE, RoSH, SGS, EN62471 standards.
We supply the safty UV LED. The peak wavelength range is between 365-430nm.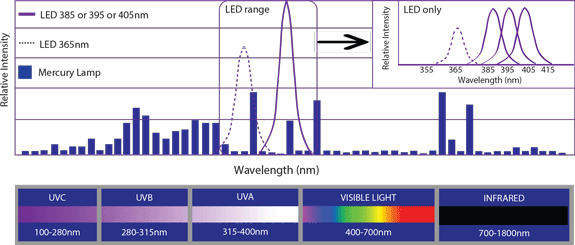 It is suitable for the application of electronic assembly, disinfection, beauty purpose, currency detection, medical and mosquito repelling.
We have use anti ultraviolet epoxy packag and high temperature resistant production technology in our products. In the past 18 years, we have been appreciated and recognized by our customers.
1, Variety of wavelength available:
365Nm UV LED,370nm UV LED,375nm UV LED, 380nm UV LED, 385nm UV LED, 390nm UV LED, 395nm UV LED, 400nm UV LED, 405nm UV LED, 410nm UV LED, 415nm UV LED, 420nm UV LED, 425nm UV LED and 430nm UV LED.
2, Variety of power available: We can supply UV LED with 0.06W UV LED, 0.1W UV LED, 0.2W UV LED, 0.5W UV LED, 1W UV LED, 3W UV LED. We can also customized single chip UV LED, double chips UV LED, three chips UV LED or multi chip UV LED for you.
3, The length of pin: LED Lamp's pin can be 17mm, 29mm, 90 degrees bent feet, braided pin and so on. Tips: taping pins can operate on a robot, greatly improving the efficiency of manual plug-ins.
4, Multiple Shape/Size selection:
· Through-hole UV LED: 3mm round UV LED, 4mm round UV LED, 5mm round UV LED, 6mm round UV LED, 8mm round UV LED, 10mm round UV LED, 3mm flat top UV LED, 5mm flat top UV LED, 346 UV LED, 546 UV LED, 5mm Straw Hat UV LED, 8mm Straw Hat UV LED, 5mm short head UV LED, 3mm Short Head UV LED, 234mm Square UV LED, 255mm Square UV LED, 257mm Square UV LED.
· SMD UV LED: 2835 UV LED, 3528 UV LED, 3020 UV LED, 3014 UV LED, 3030 UV LED, 3535 UV LED, 5730 UV LED, 5050 UV LED, 2835 2-chip UV LED, 5050 3-chip UV LED ect.
5, Variety of angle available: 5 degree Through-hole LED, 20 degree through-hole LED, 30 degree through-hole LED, 40 degree through-hole LED, 45 degree through-hole LED, 60 degree through-hole LED, 90 degree through-hole LED, 120 degree through-hole LED, 140 degree through-hole LED ect.
6, Colorful epoxy: Water clear, white diffused, pale white diffused.
We will do the High temperature resistance testing and 10 hours ageing treatment before the product out off the factory, which can ensure the stability of each product. Our LED products have 5 year warranty. Please believe that we are the best supplier for your light-emitting diode.