When you start to design a LED product. In such a big white LED market, you might have no idea about all this common name: warm white LED, cool white LED, neutral white LED ect. You might have a bit trouble understanding all this name. But, don't worry, we here to help!
The most common question is"why there have so much name for the white LED? Is it just call white LED?". Normally, all the LED manufacturer produce the white LED with blue chip, after we bond the blue die into the case, phosphor powder will be filled in for the reflective the blue light to the white light. In this process, different amounts of phosphor will cause different color of the product. The more phosphor power, the more warmer white color. That's why there have so many white color can be produce.
Actually, people also can measure these white color as "Kelvin" follow by a "K". In Best LED factory, the warmest white LED can be 1800K and the coolest white LED 50000K. The more large number, the more cooler color of white LED.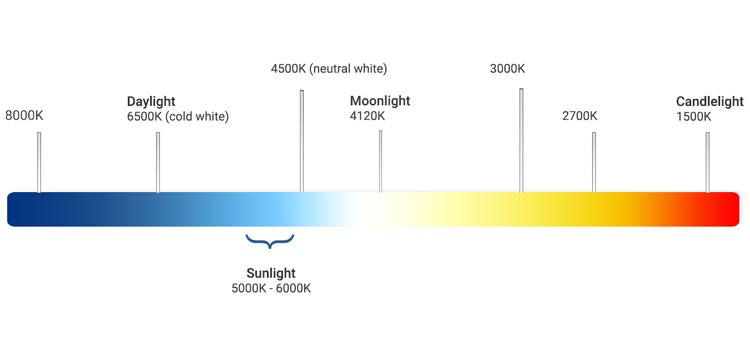 Typically, clean cool White SMD LED (or White Through-Hole LED) is suitable for warehouses, wide open areas, shopping center, hospitals and
jewelry cabinets to offer the best light to see everything clearly. On the other hand, warm, soft, warm white SMD LED (or Through-hole LED ) is more suitable for homes, clubs, bars, smaller spaces and some shops as it servers well as accent lighting an is not harsh on people's eyes. We offer this information just as reference, just feel free to choose any one of them for your project.
In order to fit with different product design. There also have kinds of package in Best LED factory for your choose also. For white SMD LED, there have 2835 White SMD LED, 3020 White SMD LED, 3528 White SMD LED, 5050 White SMD LED, 5730 White SMD LED ect. For White Through-hole LED, there have 3Mm White Through-Hole LED, 5mm whtie through-hole LED ect.
Hope all this information can help you. If you need further information about all this white LED, just feel free to contact us!
SHENZHEN BEST LED OPTO-ELECTRONIC CO.,LTD
Phone/WhatsApp/Wechat: +86 158 1182 1642
Address: Building No. 1 Lane 1 Liuwu Nanlian The Fifth Industry Area , Longgang, Shenzhen, Guangdong, China. 518116